N°9 « Discours populistes / Populist speeches »
Le nouveau numéro des Cahiers PROTAGORAS « Discours populistes / Populist speeches » (N° 9) est dorénavant disponible en version numérique ou en commande via les liens suivants:
L'Harmattan – lien (livraison à 0,99€ en France métropolitaine)
Amazon – lien (livraison à partir de 0,01€ en France métropolitaine)
Notre laboratoire est fier de vous présenter cette nouvelle publication des Cahiers PROTAGORAS, réalisée avec le soutien de l'
IHECS
et de notre éditeur
L'Harmattan
, et coordonnée par Loïc Nicolas (Directeur des publications) et John Vandenhaute (Coordinateur).
Ce numéro des Cahiers PROTAGORAS livre un travail d'enquête sur les anciens comme sur les nouveaux outils du populisme. Il permet d'analyser, de décrypter et de comprendre ce que l'appel au « peuple », sa convocation, sa construction en discours, fait à la communication politique. Sur la base d'une mise en perspective socio-historique, les articles rédigés par des chercheurs académiques et professionnels de la communication réunis dans cette nouvelle édition donnent les moyens de préciser l'influence que la parole populiste fait peser sur les pratiques et les usages de ce champ communicationnel.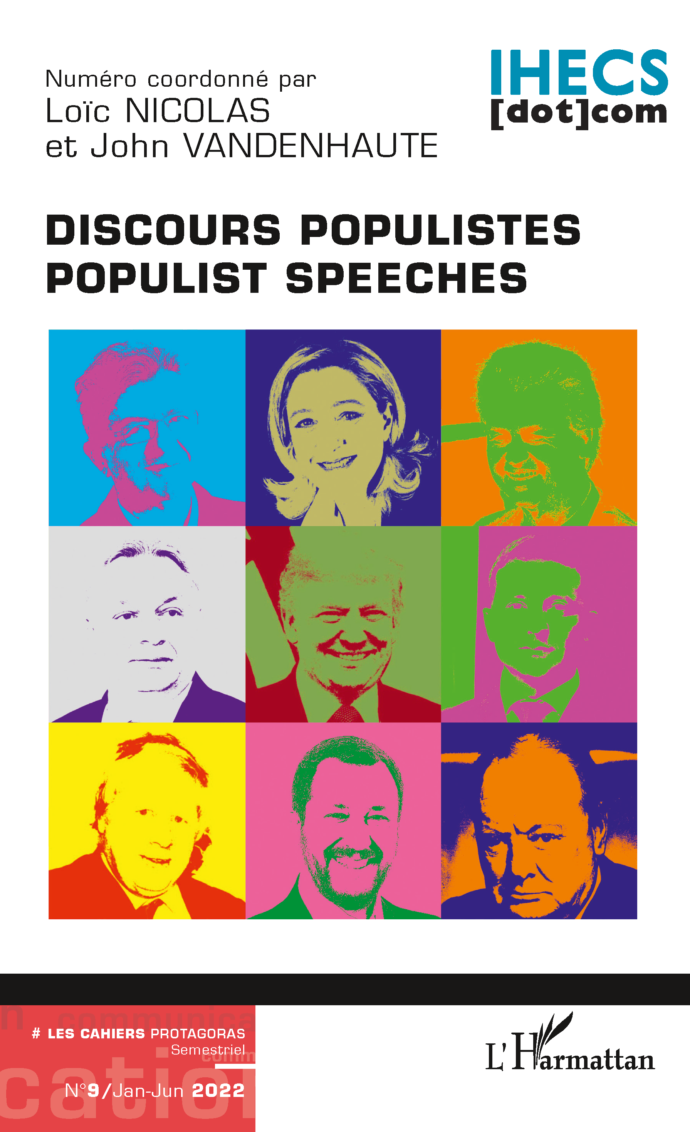 Table des matières :
Introduction : le populisme entre mythes politiques et réalités communicationnelles
Loïc Nicolas et John Vandenhaute
La communication visuelle du Rassemblement National et de la France Insoumise : un discours éclectique entre dédiabolisation et transgression. Analyse des affiches de campagne
Morgane Belhadi
The word "democracy" in the speeches of right-wing populist parties: critical discourse analysis of the Rassemblement National and the Freiheitliche Partei Osterreichs
François Debras


La communication numérique de Marine Le Pen : un populisme 2.0 ?
Alexandre Eyries


Les accents populistes des discours d'un homme providentiel, Winston Churchill ?
Matthieu Dauriac et Christian Bourret


A populist communication strategy: the Volodymyr Zelensky case study during the presidential elections in Ukraine in 2019
Alina Pirlik


Strategies discursives du militantisme antispéciste et des défenseurs de l'alimentation carnée en France, le populiste c'est l'autre
Héloïse Mazéris
Afterword: populism and where the "scholarly" journey may be heading
Uta Russman